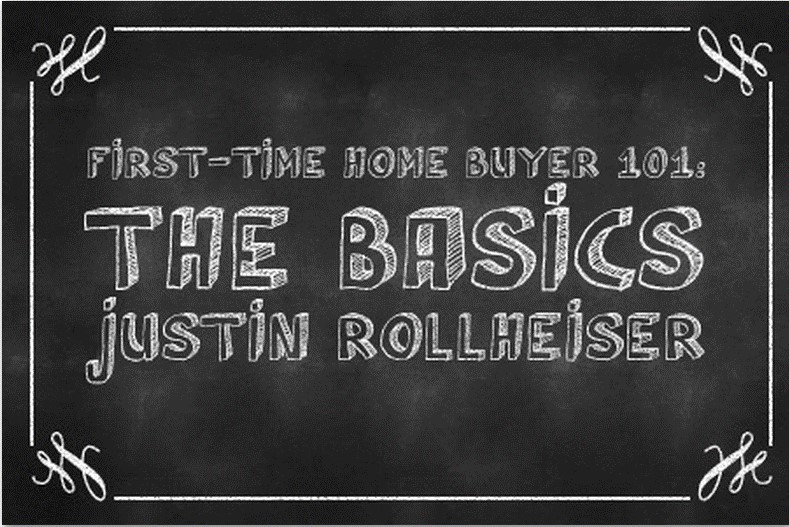 Those who know me know how much I believe in Johnson County Real estate. It's a great place for first-time home buyers, because it's a very safe long-term investment. You can usually depend on home appreciation in Johnson County to be right at or just above inflation. There aren't the huge up and down swings in value like you see on the coasts. Just slow, safe, and steady.
Buying your first home can often be a challenging process. It can be tempting to just continue renting or staying with family. However, if you can move slightly outside your comfort zone for a short period of time, I'm confident you will be glad you did. To help guide you through the process of buying the perfect first home, here is a list of things for first-time home buyers to consider.
Things to Consider Before You Buy
Often, the desire to own a home begins by thinking of all that money "wasted" on rent each month (there are pros and cons to renting…housing is an expense, regardless). Others believe that home ownership will provide a certain independence, a.k.a. Living The American Dream. Before buying a home you need to define your long-term goals and evaluate how home ownership fits within those goals. Start focusing your efforts by first answering these questions:
What is the best type of property for my situation?

Traditional Single-family Home – This is what most people think of when they consider buying a home. A detached home, likely with a backyard, garage, and basement. White picket fences. Waving at your neighbor as you walk down the driveway to grab the newspaper (do people still get the newspaper?).
Townhouse or Condominium – This options is somewhat of a hybrid feel between an apartment and a house. There are often common areas and amenities like you'd expect from renting. There often isn't much exterior maintenance required by the owner as it's usually provided by the HOA. Though you don't have to handle these things, much like you wouldn't living in an apartment, you do own the property. Those looking for maintenance-provided communities find value in this type of property (do you travel a lot, or dislike yard work?).
Multi-Family Property (2-4 units) – This was my choice of first home. For the right person, the benefits are HUGE. Having a tenant help pay your mortgage is great, but there are added responsibilities. Being a landlord isn't for everyone. If the thought of being a landlord doesn't scare you, you should consider a multi-family property!

What condition of property should I choose?

New Construction or Remodeled – For those wanting a very nice house without the hassle of dealing with a remodel this could be an option. Although building a custom home requires quite a bit of picking and choosing many of the elements in the home, you can also buy a new home that's already built (often called a "spec home"). Expect to pay the most for these new or remodeled homes, but also consider the short term savings on maintenance/repair expenses. New homes are also known for appreciating faster than existing homes.
Move-In Ready – These homes are typically priced middle-of-the-road. There may need to be some minor remodeling or upgrades done, but the overall house is in good enough condition to move in right away. This is the perfect option for someone who doesn't want to pay top dollar, but also doesn't want to worry about stressful repairs and remodeling expenses immediately. Upgrades can be done over time as schedules and finances allow.
Fixer-Upper – Are you handy? Do you want the flexibility to make your home just the way you want it? This is a great option for you. The most important thing to consider when buying fixer-uppers is that you don't want to overpay for the property. There is often a lot of demand in the first-time buyer / fixer-upper price range. There are always people who love doing things the hard way without first weighing the savings (or lacking savings) with doing the work themselves. Don't compete with these buyers unless you like doing remodeling work for free. The price of a fixer-upper should reflect the amount of work needed (sweat equity) and/or the amount of time and effort needed to hire professional tradesmen to do the work (time = money). A good real estate agent can let you know whether or not you're getting a deal given the amount of work a property needs.

What specific features would my ideal home have?

Please keep in mind your first home might not be "as nice" as your parents', aunt's, uncle's, grandma's, etc. These people have likely spent 20, 30, or 40 years building equity. They will likely have upgraded homes multiple times since buying their first homes. Believe it or not, it's very unlikely you'll live in your first home for the rest of your life. I suggest thinking in terms of living in your first home for the next 5-7 years.
Having a realistic idea of your needs, wants, and budget is very important. Focus on things like neighborhood & size. Then, think about smaller details like bathroom and kitchen layout, style, size of the yard, or other special wants that you may have (game room, music room, media room, etc).

How much mortgage can I afford?

Before you start shopping for a home, it's very important to get an idea of how much a bank will loan you. You may have your heart set on a $300,000 home, but may only qualify for a $200,000 mortgage. Unless you have a $100,000 down payment, your $300,000 dream home is not realistic. Obvious factors determining what you can afford are: current debt, current income, desired purchase price, and available funds for a down payment.
In addition to what the bank says, having a good idea how much you want to dedicate to a monthly housing payment is very important. Someone with excellent credit, low debt, and a high income might easily qualify for a home much more expensive than they really want or need. Again, figure out how buying a home fits with your other goals.
Being Pre-Approved with a bank or lender is absolutely necessary if you want to be seen as a legitimate buyer in the eyes of a seller. You don't want to find the perfect house only to miss out because you aren't able to quickly prove you're a qualified buyer. Sellers expect it. If you want to start shopping for houses, don't wait to get your pre-approval.
There are many special loans and assistance programs available for first-time home buyers. Ask your mortgage lender and real estate agent about these types of opportunities.

Why should I use a real estate agent to buy a home?

It's not just because I'm a Realtor…I got licensed to sell real estate because I believe there is a need for buyer's agents. I used a buyers agent to help me purchase multiple homes before I got my license. I thought it was a good thing then, and now that I'm more educated about the process, I feel it's a necessity. There is so much to know. I'm sure you can try to do most of the leg work yourself….you're smart, right? You can certainly Google the answers to all of your questions, right? I would contest: it's the answers to the questions you never knew to ask that can come back to haunt you.
Typically, home sellers pay commission to both agents, so as a buyer, it's typically free for you to use a buyer's agent!
The Home Buying Process
Please expect a little chaos to unfold somewhere during this process. Just know that you are working with a qualified agent who will get you through the fray in one piece…and you'll be very happy!
Getting Pre-Approved – this is a very necessary first step. It allows you to know exactly what you can afford. Plus, all sellers will want to know that you're pre-approved before accepting your offer. Real estate can often move very fast. You don't want to miss out on a great home just because you waited to be pre-approved.
Finding A Home – Most buyers find their home with the use of the internet. However, I recommend using all available methods for finding a home, including using your agent's automatic notifications from the Multiple Listing Service (aka MLS…it's a shared database for local real estate agents), and driving around your favorite neighborhoods looking out for For Sale By Owner (FSBO) signs. Spreading the word among your family, friends, and co-workers is also a good idea. You never know where a good lead may come from.
Making An Offer – Your agent will help you decide how much to offer for a house and what conditions you want such as asking the seller to purchase a home warranty, or pay for some of your of closing costs. Your agent will present the offer to the seller's agent. The sellers will usually accept your offer or make a counter-offer. You can accept their counter-offer or continue to negotiate back and forth until a deal is reached. Once you reach an agreement, you'll make an earnest money deposit on the property in exchange for having the exclusive right to purchase the home. If an agreement can't be made, it's OK. There are other houses out there. Try to remain as unemotional as possible during these negotiations and rely on your agent to help you make the right choices.
Home Inspections – This is another thing you should consider absolutely necessary when buying a home: hiring a home inspector. SKipping this step can cost you untold amounts of money. A typical home inspection costs between $300-$450. The purchase contract typically specifies an amount of time in which the buyer is able conduct home inspections. If your inspector find issues wrong with the home, you have a choice of accepting the house as-is, negotiating with the seller to correct the defects, asking the seller to reduce the price, or cancelling the contract and find another home. If agreement can't be reached regarding any legitimate defects the buyer will usually get their earnest money deposit back, as long as they follow the proper timelines. The amount of time allowed to reach an agreement is also outlined in the purchase contract.
Homeowner's Insurance – You'll want to shop around for homeowner's insurance, get quotes, and be sure the home is insurable before your inspection period expires. Consider bundling your home and auto insurance with the same company to save money.
The Appraisal – Just like how you, as an individual, were pre-approved by the bank, the house itself must also be "approved" as a safe investment for the bank. Before the bank will lend you the money to purchase a home, they will have the home appraised by an independent appraiser. The fee for this is typically paid out of pocket by the buyer, and usually runs between $300-$600.
Final Underwriting – This is the final approval done by the bank "just to be sure" that they've correctly reviewed your financial information and the home appraisal. They also re-verify your income and credit. It's very important not to make large credit purchases before finalizing the loan. You can easily throw off your debt-to-income ratio causing you to no longer be qualified to afford the home.
Utilities – At this point, go ahead and begin setting up service with the necessary the utility companies. Schedule them ahead of time transfer into your name the day of closing.
Final walk-through – This is a quick walk-through of the home (done by the buyer) just to be sure that the condition of the home didn't change drastically. You're basically checking to be sure there hasn't been theft, vandalism, damage, or some other major issue.
Closing – Congrats!! You've made it. Closing is the final thing to do when purchasing your first home. This is when you will sign loan documents, and the other paperwork needed to finalize the purchase of the home. This is also when you get the keys to your new home.
Congratulations!! You're A Homeowner! Now what?
You've signed the papers, got your keys, and moved in, what's next? Here are a few final things to keep in mind as you enter the homeownership home phase of your life.
Emergency Fund – With homeownership comes the occasional big ticket repair. Things like replacing a furnace & A/C are expensive (again, this is why I recommend getting a home warranty which covers many of these potential budget breakers). Having enough money available for these and other, smaller items keeps you from being caught off-guard.
Routine Maintenance – Once you own a home it's important to keep up with the routine maintenance like cleaning the gutters and painting. Taking care of these items while they're small and manageable is almost always cheaper in the long run than letting them get worse.
Don't Worry About The Housing Market – After you own a home, it's best not to worry about the daily headlines regarding the housing market. Most of that information is based on national trends and is often sensationalized to drive TV ratings and Internet clicks. Real estate in Johnson County is very stable, but that doesn't mean there won't be the occasional slump or bump in real estate prices. The value of your home will be important when you actually need or want to sell. Regardless, there is no reason to be worried about the short term ups and downs in the value of your home.
Conclusion
Hopefully, this information has answered some questions you had about buying your first home. Questions? Give me a ring today!

Justin Rollheiser – REALTOR®

Keller Williams Realty | Diamond Partners, Inc.

13671 S Mur-Len Rd | Olathe, KS 66062

Mobile 913-548-5972

Office 913-322-5878

www.JustinRollheiser.com